Australia 2006-2007
When I planned my Around The World trip in the summer of 2006, I decided pretty early in the planning process that I wanted to spend New Year's in Sydney. I wished to see the amazing fireworks over The Opera House and Sydney Harbour Bridge – to see and hear it live instead of on the television.
And so it happened, but that I the next day on the 1st of January 2007 would be walking on the very same bridge I had been looking at for several hours the following day, wasn't in the cards before I left Europe some months before.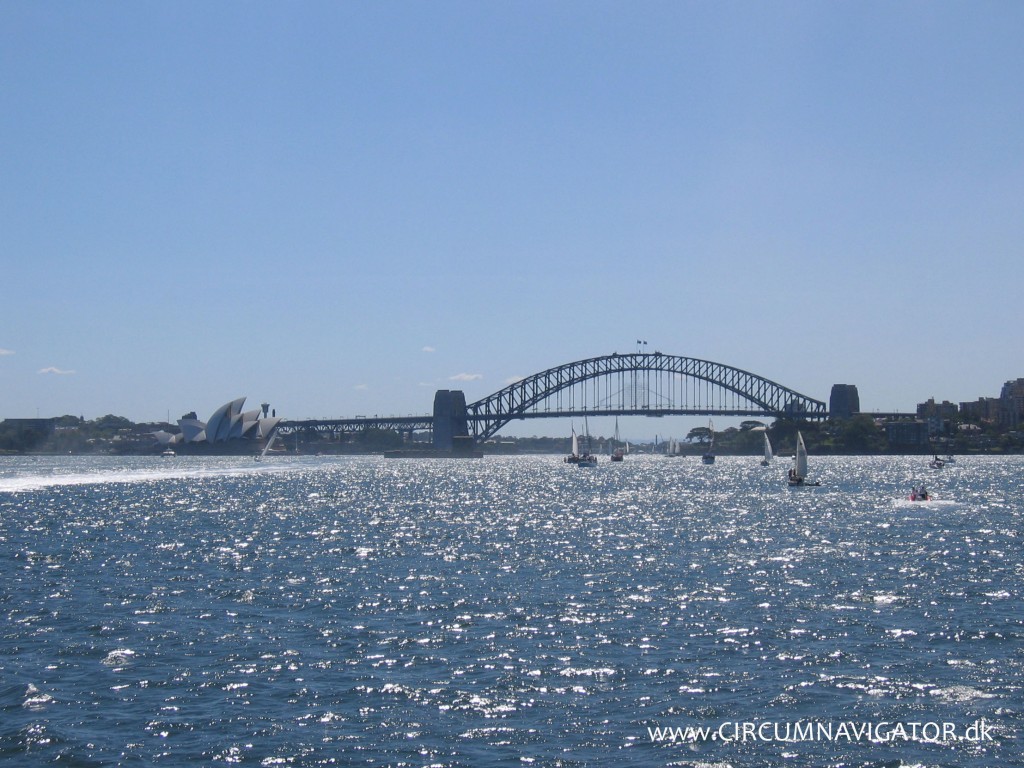 New Year's Eve in Sydney Royal Botanic Gardens
If you do not have a boat, it is said that the best and cheapest spot to watch the New Year's Eve fireworks of Sydney is from the northern tip of the Royal Botanic Gardens – also named Mrs. Macquaries Chair or Point. But that means it is also a very popular spot to be that special evening and night. Actually so popular that you have to spend the entire day of 31st December there to be sure to have a place to sit and later a perfect view for the fireworks.
The Royal Botanic Gardens are closed with fences for that day, which mean that  before they open the gates in the morning, you have to stand in line to get in. In 2006 we started waiting in the line at around 9 o'clock in the morning, and we weren't even first in the line. We had everything for the day, evening and night packed in our day packs, including blankets and camping chairs to sit on. In the park there are food and beverage stalls and toilet facilities, but do remember that in this park alone up to 17.000 people will be having a party on New Year's Eve, so bring your own stuff too. For more info on the 2012 New Year's in Sydney please go to the official site: http://www.sydneynewyearseve.com
We were a small group of Danish backpackers and had a great time together even though it was a long day. Events are happening all through the evening – ship parades, family fireworks at 9 PM etc. And the waiting time was well worth it at 00.00 when the big explosion started in Sydney – a truely AWESOME (as they put it Down Under) experience never to be forgotten.
A Diamond Night in Emerald City
Every year Sydney has a theme for the New Year's Eve celebration and the midnight fireworks. In 2006/2007 the theme was: A Diamond Night in Emerald City.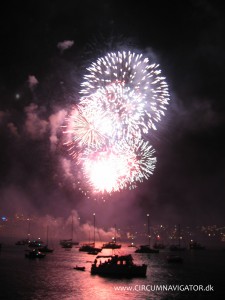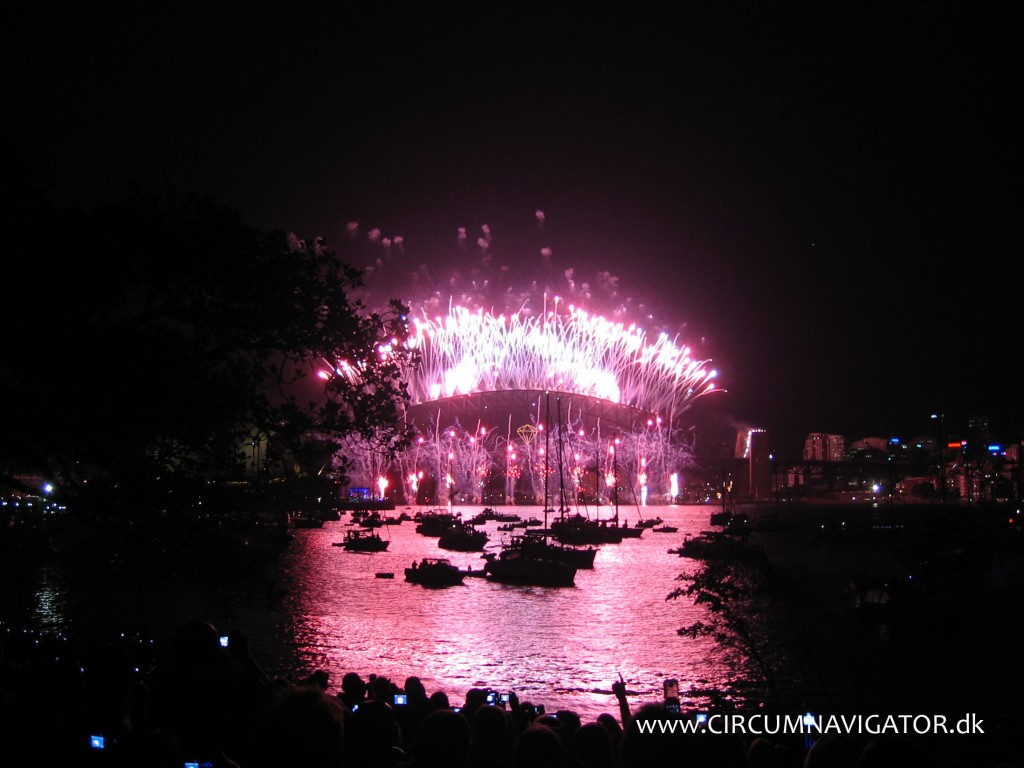 New Year's day on Sydney Harbour Bridge
Be aware that if you are in Sydney over X-mas and New Year's so are a lot of other tourists and travellers, and most of them want to do and experience exactly the same things there as you do. So when I wanted to book a Bridge Climb on the Harbour Bridge the only available time was at 10 o'clock in the morning on New Years Day. You are not allowed to climb the bridge when not sober, so I think I only had a couple of XXXX's (Australian beer brand) on New Year's Eve, but it didn't matter because I was on a high just from being in Sydney that special night.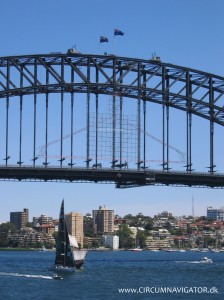 After gearing up – you wear a neutral colour jump suit and no loose objects are allowed, you start the walk to the south-east pylon. From here you climb ladders to the start of the upper arch. You have a perfect view over the entire city and the famous Sydney Opera House designed by the Danish architect , Jørn Utzon, to your right.
After reaching the summit, you cross over the bridge to make your way back on the Darling Harbour side of Sydney. All together the walk and climb is approximately 2 hours and it is said that even people afraid of heights can do it. I am not – actually I love watching things from above, so I cannot guarantee if this is true. For more information on the Sydney Harbour Bridge Climb visit their web site: http://www.bridgeclimb.com/default.aspx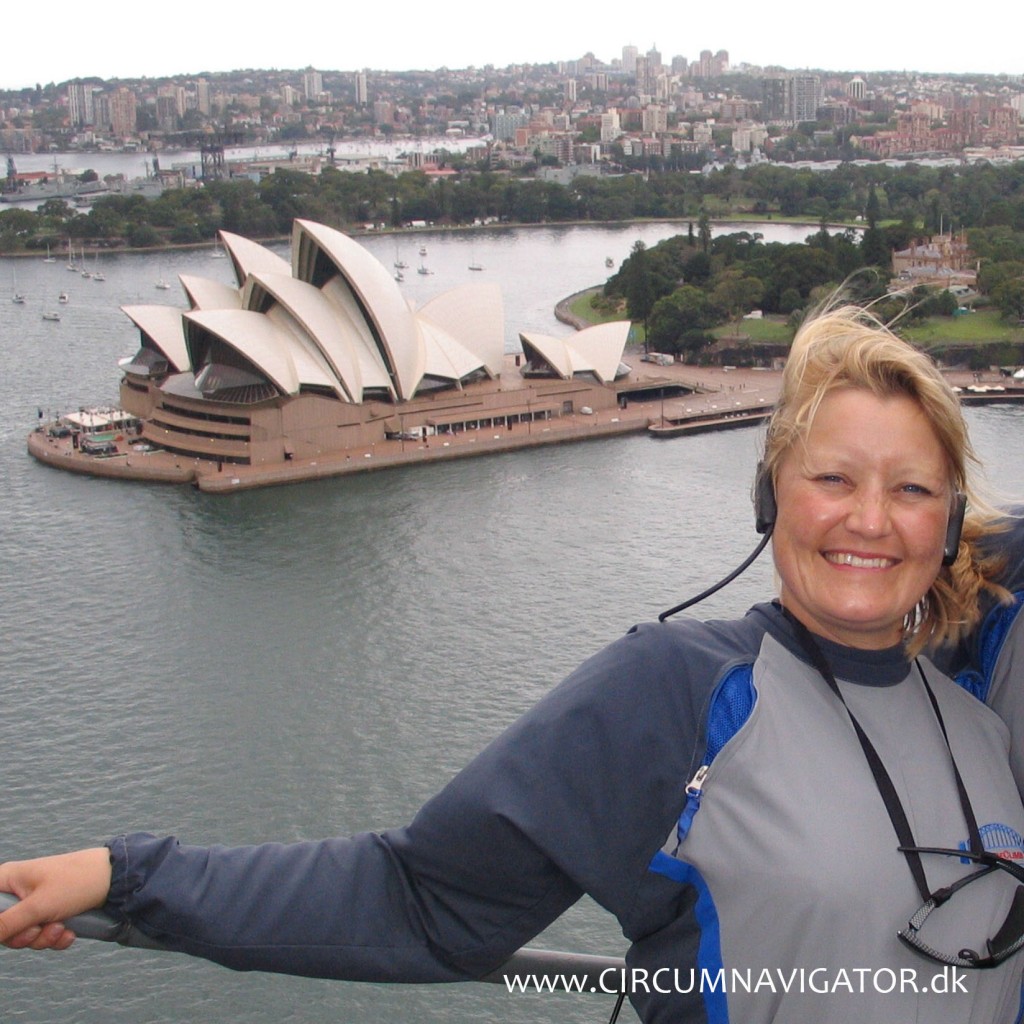 I was in Sydney for a little more than a week over X-mas and New Year's in 2006/2007 and it is definitely one of my favourite cities of the world.  So many great things to do and see and I surely hope to come back one fine day.
HAPPY NEW YEAR TO SYDNEY AND ALL MY READERS AROUND THE WORLD 🙂