French Polynesia 2007
I was asked the other day to describe my best moment during travelling. I have experienced a lot of things during my travels and have many, many great memories. I answered that first and foremost the best travel experience is my Around the World Travel in 2006 to 2007. To be able to pull out so many months of the daily schedule and just concentrate on travelling and great adventures is absolutely fantastic.
Being instead of Doing in French Polynesia
But apart from that, I also answered that if I should choose one single moment, it must be the the couple of weeks I spent in French Polynesia in the middle of the Pacific Ocean, and especially the afternoons with tropical rain showers at the Camping Chez Nelson, where there was nothing else to do but to sit under the reed/tin roof of the basic cabin on the beach and just look at the rain dripping – drip, drip, drip.
Maybe it was because I was so full of experiences after travelling around New Zealand for about 2 months, or because I had just crossed the international date line and thereby rewinded a day (27. march 2007 – my nieces 10 year birthday), but when I checked into the basic cabin at the beach on Moorea, the neighbor island to Tahiti, I automatically went into slow motion.
Ofcourse there were activities to do on Moorea. I loved putting on my mask and snorkel and swim out and investigate the coral reef only a few meters out from the beach, or take a stroll on the beach and enjoy all the beauty of a truely tropical island. Or just reading a book. But somehow these activities became more a being activity than a doing. Very mindful!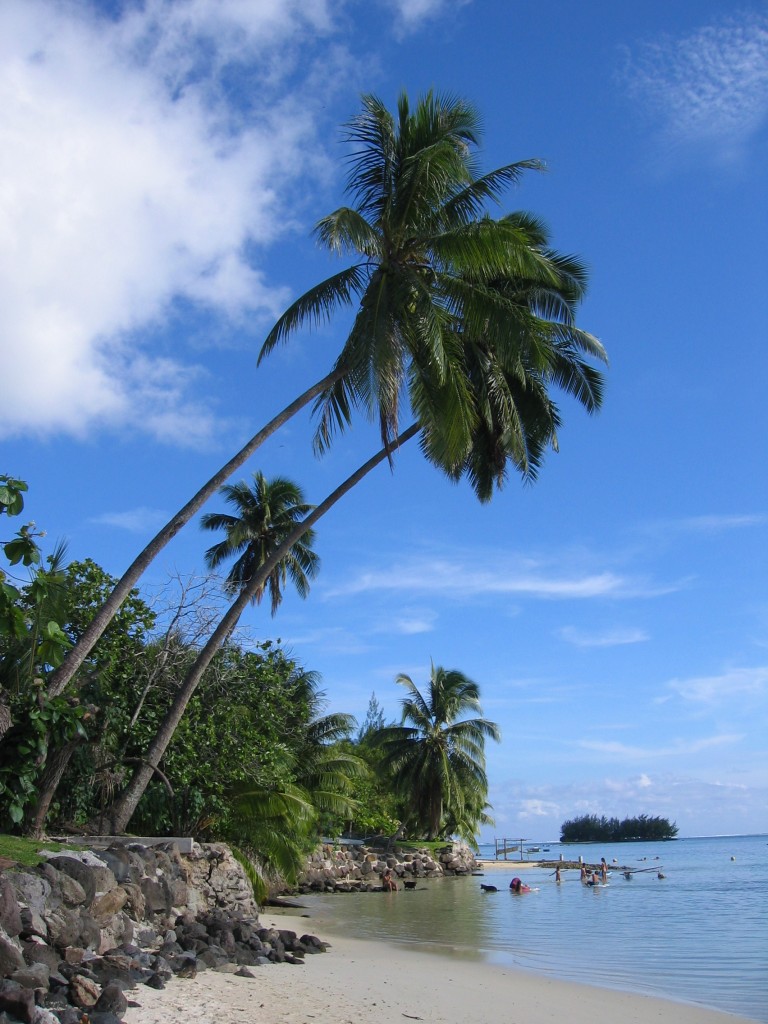 While there for one day we rented a mini car to drive the approximately 60 km around the island. It was great fun and on the trip, we visited  the Jus de Fruits de Moorea factory, saw a dance show in the Tiki Village and reproductions of some of Gauguin's famous paintings, visited ancient marae ruins inland and had a beautiful view over Cook's Bay.
Another day we went on a shark feeding dive arranged through one of the luxury hotels on the island. I'll never forget the back roll entry I had to do from the boat into clear water full of black tip shark fins in the surface – a bit scary but also so exciting. On Tahiti we visited the local market and black pearl shops. So we also decided to do and see things while in French Polynesia.
No distraction, please!
On my world travel in 2006-2007, me and ex-boyfriend brought one old Nokia phone to share for both of us. It was almost always there in our daypack but tugged away and we rarely looked at it, and seldom used it. It was nice to have with us in case we wanted to talk with the family back home, but extremely expensive to do it, and often there also were no connection. I don't remember if there was mobile connection where we were on Moorea but most probably not.
During the months we travelled instead of the phone, we used the internet cafés and sent an email or updated our travel blog to let them know that we were OK. But all in our own time and without being distracted from the main focus – the travelling.
When I lived in London from 1991 to 1992 there were no mobile phones, at least not for "normal" people. I remember that I every sunday called my mom in Denmark from a pay phone and then she would call me back in order for me to save money. A few years later in 1996, when I was studying in Finland, I had my very own and first mobile. My best friend didn't, so we shared mine to phone friends and family  at home. Got a huge telephone bill out of it though.
Last year when I travelled around Mexico, Guatemala and Belize of course I brought my smart phone. It was so easy to stay in contact with friends and family and cheap too, because in most of the hostels and hotels there were free wireless. So even though I was 1000 of kilometers away from Denmark, almost anywhere I went or stayed, it was very easy to share my experiences or talk and chat with them at home.
I am a big fan and user of all kinds of social media. Right now, I am an active user of Facebook, Twitter, LinkedIn, Instagram, FourSquare, Pinterest, Google+, YouTube and different kind of communication programs/apps like Skype, Viber or WhatsApp to stay in contact and share information with the people around the world that I know, or even don't know. On an hourly basis… more or less or at least… I check my smartphone or computer for news or updates, and since it has grown on me, I do not see it as a distraction in my life. Today, It is just a natural part of it.
But still once in a while, I wouldn't mind a couple of weeks with no distraction and totally being instead of doing in French Polynesia again or another secluded tropical island.