Vatican City State 2008
In my list of countries visited, I've put the Vatican City State. To be honest, I have never stayed overnight there  – Well, I don't think that many people not connected to the Vatican somehow, have actually. But when I visited Rome in 2008 , I did go to the smallest state in the world a couple of times. Even though it is tiny with it's area of only 44 hectares and population of approximately 800 persons, there sure are a lot of wonderful things to see and experience.
Vatican Museums and The Sistine Chapel
It is surely recommended to spend some hours in the Vatican Museums. The Catholic Church do own a lot of valuable pieces of art and some of it is on display for the public at this museum.
Through the museum there is also access to the magnificent Sistine Chapel, where the cardinals the next days will be occupied with finding a new Pope. Due to preservation of the breathtaking wall and ceiling paintings of Michelangelo, and the mere fact that this is a very sacred place, it is not allowed to take any photographs in the chapel. To learn more about and see the paintings visit this page – the Sistine Chapel.
Please note that the entrance to the museum, and thereby also the Sistine Chapel, is NOT from St. Peter's Square, but a 10 to 15 minute walk from the square to the North along the Vatican wall.
Saint Peter's Basilica in the Vatican State
You have to see it to believe it! Saint Peter's Basilica is surely the greatest church of Christianity.  Just standing outside the enormous building is breathtaking, and inside you don't know where not to look because all over you notice little or big pieces of beauty.
If you feel fit to climb the stairs to the cupola (dome) of the basilica, you will get a fantastic view of the entire city of Rome.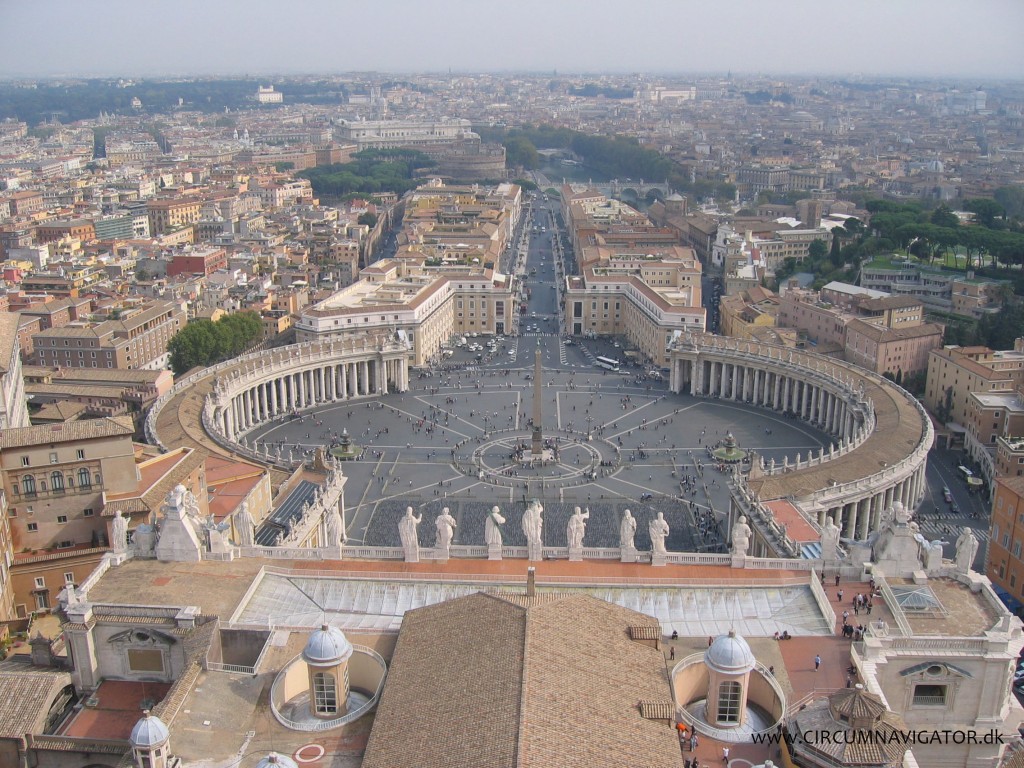 In the Vatican Grottoes below the floor of Saint Peter's Basilica, many of the previous Popes are buried.
Do remember that there is a strict dressing code to enter the Basilica – no shorts, bare shoulders or miniskirt. It counts for both men and women.
Saint Peter's Square and seeing the Pope
Every Sunday at noon, if the Pope is in town, there is a free ceremony at the Saint Peter's Square in front of the Basilica. The Pope appears in the window of his apartment and gives his blessings to the crowd. When I visited in October 2008, Pope Benedict XVI was home and it was a fantastic and peaceful experience to be a small part of the huge crowd on the square of the Vatican City State that Sunday.