Egypt 2013
I owe my readers to tell about my trip to Egypt earlier this year. Yes, I actually went to Egypt in 2013 – a holiday destination many didn't choose to go to this year, but I was lucky to be there before the violent demonstrations exploded during the summer.
So why haven't I told about my holiday over Easter in Egypt until now? To be honest it has been a busy and happy summer with little time for a lot of writing. Because it is definitely not because it wasn't an eventful and good holiday. In fact, it was a fantastic holiday with a good combination of pure relaxation in the sun and different kind of activities.
The purpose of the holiday was celebration of my mom's 70 year birthday and therefore she had invited her little family to one of her favorite holiday destinations. So late March almost in snow storm, we left Denmark with suitcases packed with summer clothes – fantastic after a very, very long winter. The destination was Sharm el Sheihk with the Danish travel agency Atlantis Rejser, and we were all, from an 1 ½ year old to an almost 70 year old, very excited to spend one week together in amazing Egypt.
Sharm el Sheihk
In Sharm el Sheikh, we stayed in one of the many all-inclusive hotels, Xperience Kiroseiz Parkland.  It is a big family hotel with 3 swimming pools placed a little outside the center of Sharm. Unfortunately not directly at the sea, but with shuttle busses leaving for both a sandy and a coral beach several times a day. Each night the food buffet was in a new theme, but sadly to my taste buds (and some of my family members) there wasn't really too much difference in the tastes of the food anyway. The other guests in the hotel was a mix of many nationalities, but predominated by Russians, that, sorry to say, do tend to get a bit annoying. But as I say "different cultural background means different ways of acting, and it would get pretty boring, if we all were alike". The staff in the hotel was extremely friendly and helpful, and very funny that they recognized my mother even though it was over one year since she last visited. They also arranged a birthday cake and singing for my niece that turned 16 during our holiday. If any critique of the staff, then the spa department needs to make more of an effort. It was possibly the worst manicure, I have ever had – pedicure was ok though. A few plusses and some minuses brings my overall view on the hotel to a 3 ½ out of 5.
The center of Sharm el Sheikh, Naama Bay, is during the evening full of life with many bars and restaurants. Since it was a family holiday and due to other activities, I only went out one night together with my sister in law. We had a funny night with tasty drinks at the Hard Rock Café. There are also plenty of shops and if you don't mind that your Converse All Star aren't totally original, this is where to buy them cheap.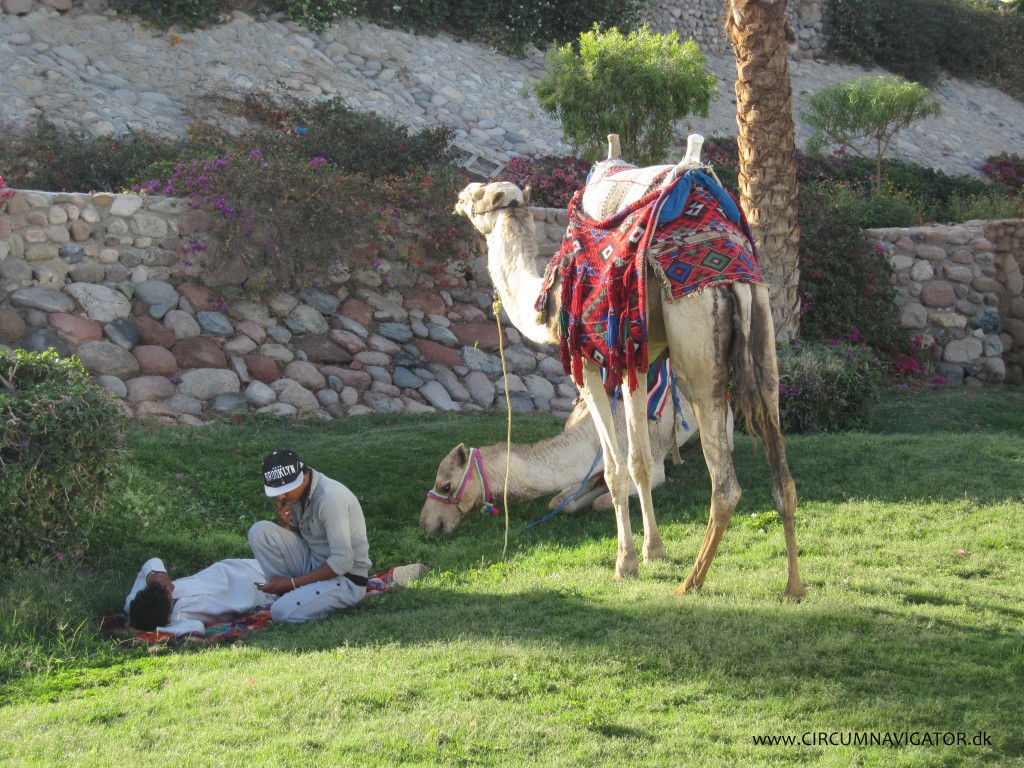 On my travels, I love to see and experience diverse nature, and the nature in Sharm el Sheikh surely is diverse to the nature of Denmark, but after all it is just a tourist town that sits in the middle of a desert, with not much above ground than sand and a few palm trees, but the underwater world…
The Red Sea
As mentioned earlier, was it possible from the hotel to go by shuttle bus to a small coral beach just outside Sharm. So it took a little pre-planning to jump into the ocean with mask and fins, but was definitely worth the bus ride… have I told, that I love the ocean! Even from the jetty that lead out to the coral wall some few meters from the coast, it was possible to see all the colorful fishes in the clear water. And when you jumped in to snorkel, it was like swimming in a big aquarium full of different corals and fishes.
Our family from young to old also went on an all-day boat trip from where it was possible mostly to snorkel, but also to do a couple of test dives. I am the only certified scuba diver in my family, and we had to choose something that were for all of us. But my brother is also a water dog, so he was totally in for the challenge of the test scuba dive with an instructor. Don't say to anyone, but we both had two dives below 10 meters, even though max. was 6 meters, where we saw some very interesting underwater life. Even my brave niece tried her very first scuba dive. My brother was just as amazed from the experience as I was, when I some years ago did my first scuba dive in tropical waters, but in my opinion, I would have expected some more from the Red Sea. Maybe I have already seen too much of underwater life or possibly it was just the dive spot that was chosen. I have to go again and try it out on a real dive trip to Egypt.
Ancient Egypt with the great pyramids
I hope that it soon again will be totally safe to go to Cairo, because the highlight of this holiday was for me to see the pyramids in Giza and the treasures and mummies in the Egyptian Museum in Cairo.
To get to Cairo from Sharm el Sheikh, I choose the easier but also a bit more expensive option by flight. If you only have one day available for the Cairo trip, then It saves you from a very long nightly bus ride during nothing much but desert.  I flew from Sharm's airport, only a 10 minute ride from my hotel, at 6 o'clock in the morning and was back in the hotel at nine in the evening and saw and experienced a lot during the day.
First, a bus took us to the Egyptian Museum just next to the Tahrir Square. This Thursday just before Easter there was no signs of riots and demonstrations, but it was also during the period when only a few demonstrations just after the Friday prayer were happening. To find out how the situation is now, I strongly recommend to ask authorities, that will know. We were at the museum just before it opened – is always recommendable for popular tourist attractions in order to avoid long lines of waiting to get in. We had two hours to see the entire museum and all its fantastic antiques, artifact, treasures and mummified Pharaohs from the ancient Egypt. It is possible to see most of the exhibitions in two hours, but if you can then it is surely advisable to reserve much more time for the visit. It is not allowed to use your camera inside the museum. Of course, I recommend to see the exhibition with precious artifacts from the grave of King Tutankhamun, but also the mummies are interesting and a bit scary too. Did you know they also mummified animals from mice to alligators?
After a lunch and a small bus sight seeing through Cairo next stop was Giza. We went through a very interesting trade street where meat, bread, fruit and vegetables etc. were sold from small vendors in dust and dirt. Interesting to watch was also the hectic of the traffic, but can only imagine that it would be pretty annoying, if this traffic chaos was part of your everyday life. Another thing that stroke me in Cairo, was the many unfinished and empty high-rise  houses especially in the suburbs near Giza. I remember that I thought after only a few hours in Cairo, that you cannot say that you have experienced Egypt, if you have only seen and stayed in an all-inclusive hotel at the Red Sea.
Just outside Giza are the amazing Pyramids. It is needless to say that one feel a bit overwhelmed by the size of them, especially knowing they were build thousands of years ago. Another thing that can also be a bit overwhelming are the many hustlers that want to sell you replicas of the Sphinx or offer you a ride on their donkey. Be prepared to say "No, thank you!" more than just a couple of times. Prior to my visit to the country, I watched some very interesting TV documentaries about the different Pharaohs of  ancient Egypt and learnt who build what, when and possibly why. Before visiting the country, I do advise to learn just a little about this great egyptian era, to fully, or at least partly, understand the culture.
My visit to the Great Pyramids of Giza and the Sphinx was one of those "once in a lifetime" experiences, where one feel so small in the big picture and the history of the world.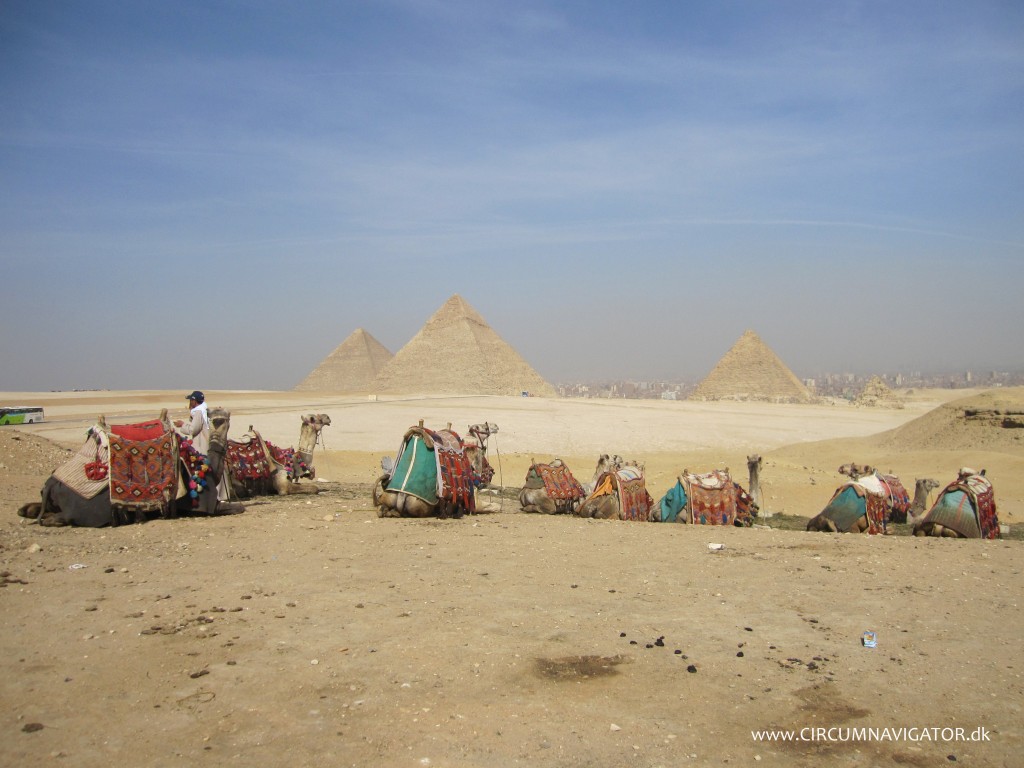 Young Egyptians will gladly help you shooting some very funny photos at the Sphinx – but like with the many other hustlers around the tourist sights, be alert. They might charge you an overprice for their service.